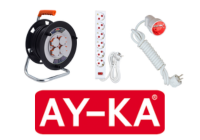 AY-KA Electric is a leading brand in the electrical industry, offering a wide range of innovative and reliable products to meet the needs of both residential and commercial customers. With years of experience and a commitment to excellence, AY-KA Electric has become synonymous with quality, performance, and value.

At AY-KA Electric, we understand the importance of energy efficiency and sustainability, which is why our products are designed to be energy-efficient and environmentally friendly. Our team of experts is constantly researching and developing new technologies to create products that not only meet the needs of our customers but also contribute to a cleaner, more sustainable world.

From lighting solutions and home automation systems to electrical panels and circuit breakers, AY-KA Electric offers a diverse range of products that are backed by unparalleled customer service and technical support. We are dedicated to providing our customers with the highest level of satisfaction, and we go above and beyond to ensure that their needs are met.

Innovation, quality, and reliability are the cornerstones of our brand, and we are proud to be at the forefront of the electrical industry. Whether you are a homeowner, contractor, or business owner, you can trust AY-KA Electric to provide you with the best products and service in the industry.